Here are some simple notes on what USC fans can expect from a Monte Kiffin defense in 2010. I don't think it will be all that different from a Pete Carroll defense but I think Kiffin is probably better at teaching technique and getting the most out of his players. We'll see what happens in 2010. It won't take much to improve upon the lackluster effort of the second half of the 2009 season.
You can download about 80 pages of overview stuff on a Kiffin defense from a partial Tampa Bay defensive playbook located here:
http://www.scribd.com/doc/3111211/Cover-2-Dungy-Tampa-Bay-Defense-Install
Here are some other links in case you don't have an account at scribd.com
Tampa Bay Defensive Link Techniques
I will just pull up 5 images as a preview for anyone interested. Unfortunately there is not a full playbook here just a partial ones and sections of what the defense has to learn. Still it is a good starting point for study.
Here are some notes about the defensive philosophy overall and two common fronts the over and the under out of 4-3 personnel.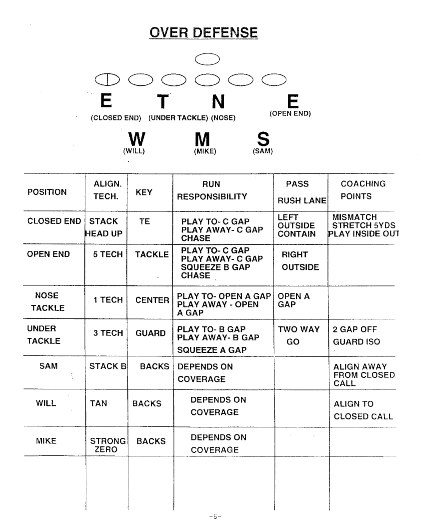 Chris Brown also has some notes on the double eagle front Kiffin used much of the game versus Florida while at Tennessee. Pete Carroll used the same alignment versus shot gun spread run teams.
Bottom line I don't expect a whole lot of change in terms of defensive schemes…but I do expect better results than the defensive debacles versus Oregon and Stanford in 2009.