The Oregon Ducks own the most successful rush attack in the Pac-10 the past two seasons. You can see the marked improvement in the run game since the arrival of former OC / current head coach Chip Kelly. In both of the past two seasons Oregon has averaged over 250 rush yards per game.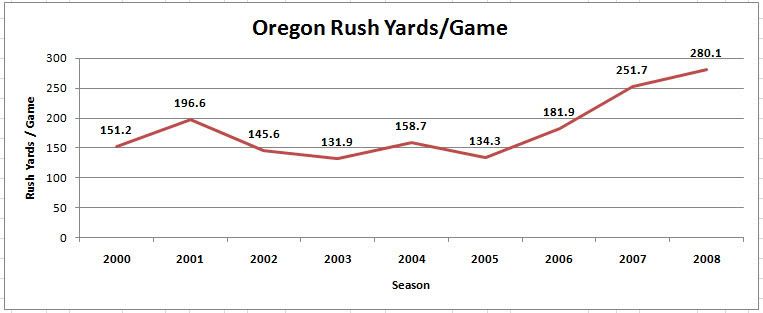 In 2008 the Ducks ranked 2nd in the nation in rushing yards per game trailing only the US Naval Academy. Here are the top 25 teams this past season. At 6.22 yards per carry Oregon topped the list in terms of yards per carry.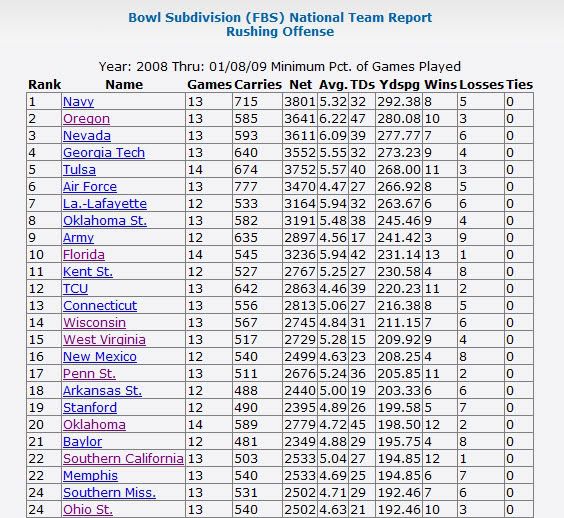 So what is it that Oregon does so well? New head coach Chip Kelly gives some insight in his 2009 Nike Coach of the Year presentation entitled "The Zone Read Option Game". Here are some selected comments from his speech.
This offense (the zone read option game) fits for us. This past season we finished second in the nation in rushing the football. We averaged 6.2 yards per carry. We have four main running plays. We run the inside zone, outside zone, counter, and draw.

If you give your players something to hang their hats on, they will perform. If they can run the offense with any scenario they may face you will be successful in running the ball. If they have all the answers to the problems the defense may give them, they will be good.

The best way to beat the team you are going to play is to have your team play them with conviction. If your players have not run that play in a critical situation over a thousand times in practice you will not have a chance to be successful. With out inside zone play, we get so much practice time and so many reps that we can handle all the other scenarios that come about. Instead of trying to "out scheme" your opponent, put your players in an environment where they can be successful because they understand exactly what they have to do.
The inside zone play is our "go to work" play. We want to get off the ball and be a physical downhill running football team. This is not a finesse play. This is physical football. The offensive lineman play with confidence because they know they have help from their teammates in their blocking scheme. This is the offense we run and everyone knows that. We have great players but we also execute it well. We ran this play 202 times this past season. We averaged about seven to eight yards per carry with this play.
Oregon averaged 280 yards per game and 6.2 yards per carry for the entire season. Oregon ran the ball 585 times in 2008. Using Coach Kelley's 202 figure above this translates into 34.5% of the runs coming from the inside zone play. Outside zone was run 122 times averaging 6.8 yards per carry and comprised 20.8% of their rush attempts. I don't have a breakdown of the Duck's offense by type of play but here is the level of success they achieved on a game by game basis in 2008.

As you can see the rush attack was amazingly successful in 2008 with the exception of the 60 yards gained versus the USC defense in game six. I'll look for representative examples of the inside zone, outside zone, counter, and draw plays alluded to by Coach Kelly. I also think there are some interesting twists in the attack as well that involve some veer type plays and midline option as well. Oddly Kelly does not mention those latter plays for some reason.